Posted on 6/18/2018 4:57:00 PM.
(Seguin) -- A Seguin Police Officer is no longer a member of the force after berating a group of teenagers and then tasing one of the young males out in the middle of the street earlier this year.
More
Seguin Police Department
---
Posted on 6/18/2018 8:13:00 AM.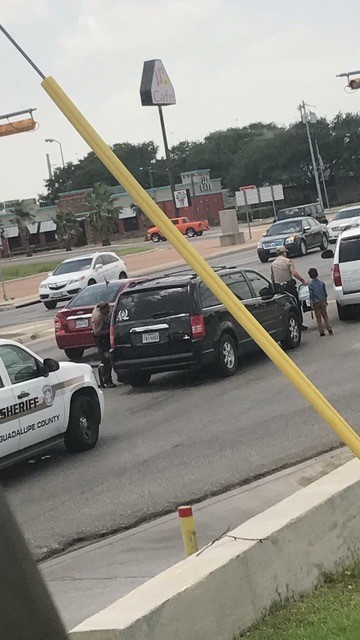 (Seguin) -- A local photographer was reportedly at the right place at the right time when she captured two Guadalupe County Sheriff's Deputies doing their job -- a job that typically is not always captured behind a lens. Thanks to Kayla McShane's recent post on Facebook, much applause is being given to Deputy Ricky Marinero and Sgt. Larry Haecker who quickly swung into action -- coming to the rescue of a local family stranded near the intersection of East Court Street and State Highway 123 Bypass.
More
Guadalupe County Sheriff's Office
---
Posted on 6/18/2018 8:12:00 AM.
(Seguin) -- With a little bit of help from Hollywood, a local playwright will soon see his script unfold on stage here in Seguin. Will's War, a play honoring Will Windle's great-great grandfather, Will Bergfeld, is set to debut this September at the Seguin High School Performing Arts Center. Auditions for the play are currently underway.
More
Will's War
---
Posted on 6/18/2018 8:11:00 AM.
(Seguin) -- Have you checked your student's STAAR results? The Seguin ISD is encouraging parents and guardians to review their child's Spring 2018 State of Texas Assessment of Academic Readiness scores released online Wednesday. The information is traditionally provided to parents during the school year.
More
Seguin ISD
---
Next Entry