Posted on 8/8/2018 5:45:00 AM.
Amanda Santos, a kindergarten teacher at Koennecke Elementary School, helps to assess Kindergarten student Daniel Bilbrey during Tuesday's school registration in the Seguin ISD. Registration continues today for students at Ball Early Childhood Center, at both middle schools and at Seguin High School.
More
Seguin ISD
---
Posted on 8/7/2018 6:44:00 AM.
(Seguin) -- The city's latest project could impact Pecan Bottom Trail and disc golf course users in Max Starcke Park East. Construction began on Monday to install a wastewater force main from the Stockdale Highway Bridge to the Walnut Branch Wastewater Treatment Plant. City officials say this construction will be a temporary inconvenience for park users.
More
city of Seguin
---
Posted on 8/7/2018 6:39:00 AM.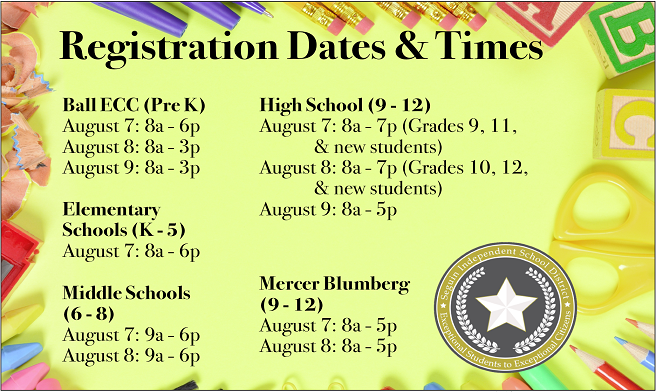 (Seguin) -- Today is registration day for students in the Seguin ISD. Campus leaders are reminding students to stop by their respective campuses and sign-up for the 2018-2019 school year.
More
Seguin ISD
---
Posted on 8/7/2018 6:36:00 AM.
(Seguin) -- Get ready to hit the exercise trail for local school children. Guadalupe Regional Wellness Center will be hosting its first ever Strides For Supplies 5K Fun Run & Walk 2018. The event will be held Saturday morning at Max Starcke Park.
More
Guadalupe Regional Wellness Center
---
Previous Entry
Next Entry