Posted on 2/4/2019 6:19:00 AM.
Saturday
TLU women's basketball def. Colorado College 75-39
TLU men's basketball def. Colorado College 71-57
TLU softball swept Huston-Tillotson 8-2, 5-1
---
Posted on 2/3/2019 10:51:00 AM.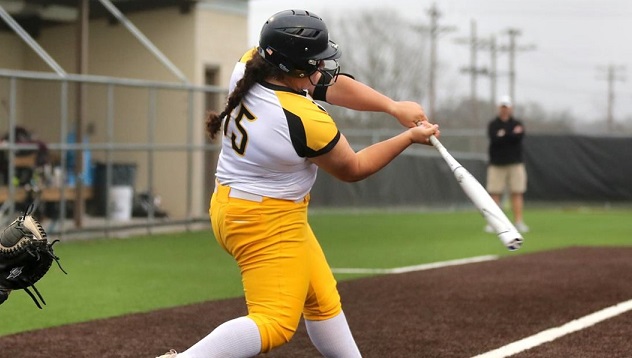 Haley Padilla drove in a run, scored twice, and stole three bases in TLU's season opening sweep of Huston-Tillotson on Saturday.
(Seguin) - Texas Lutheran opened its 2019 softball season with a doubleheader sweep against Huston-Tillotson on Saturday at Ed Kruse Stadium-Morck Field in Seguin. The Bulldogs posted 8-2 and 5-1 wins over the Lady Rams.
---
Posted on 2/3/2019 9:56:00 AM.
Senior post Harris Jowell averaged 19.5 points and 11 rebounds during TLU's two-game Colorado road swing last Friday and Saturday.
TLU men split games on Colorado road trip, maintain SCAC lead
(Denver, Colorado Springs) - Texas Lutheran's six-game winning streak ended in Friday night in Denver with a 83-69 road loss to Johnson & Wales, but the Bulldogs bounced back to defeat Colorado College 71-57 on Saturday in Colorado Springs to maintain first place in the Southern Collegiate Athletic Conference.
---
Posted on 2/2/2019 9:31:00 AM.
Home loss to Cuero drops Navarro boys from playoff race
(Geronimo) - A 12-point lead in the third quarter and any chance of qualifying for the UIL boys basketball playoffs slipped away from Navarro Friday evening in a 37-34 home loss to Cuero.
---
Previous Entry
Next Entry