Posted on 11/9/2017 5:49:00 AM.
---
Posted on 11/8/2017 12:45:00 PM.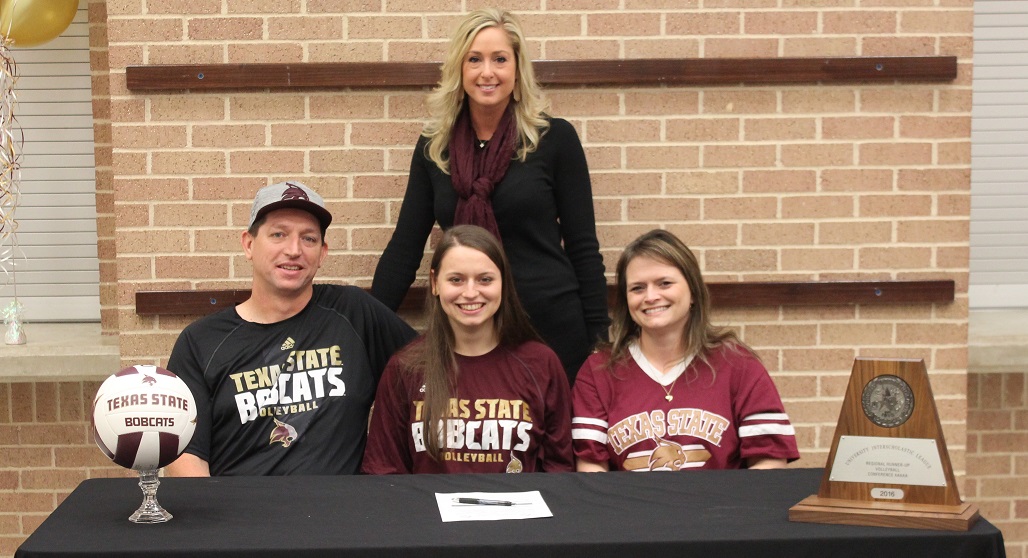 Seguin volleybal standout Kaylie Koenen (front center) is pictured with her parents and Seguin head volleyball coach Kristi Stanley after signing a National Letter of Intent to continue her playing career at Texas State University on Wednesday. Photo courtesy of Sean Hoffmann, Seguin ISD.
(Seguin) – Seguin High School senior Kaylie Koenen signed a National Letter of Intent to play collegiate volleyball at the NCAA Division I level Wednesday morning, finalizing her commitment to Texas State University during a signing event in the Goldie Harris Gym foyer.
---
Posted on 11/8/2017 12:44:00 PM.
(Spring Branch) – Seguin's goal of a second straight trip to the 5A Region IV volleyball tournament was sabotaged Friday night by an untimely injury and a scrappy Kerrville-Tivy effort in a four-set regional quarterfinal loss at Smithson Valley High School.
---
Posted on 11/8/2017 12:43:00 PM.
(Wimberley) – Navarro is headed to the 4A Region IV volleyball tournament for the second straight season with dreams of back-to-back state tournament berths intact after a 3-1 victory over Fredericksburg in Tuesday's regional quarterfinal match at Wimberley High School.
---
Previous Entry
Next Entry