Posted on 6/13/2018 7:52:00 AM.
(Seguin) -- The city of Seguin wants its residents to be on the lookout for those overgrown, weed infested lots. Helena Schaefer, senior planner for the city of Seguin, says as the weather gets hotter and the vegetation dries out, the city is identifying this code violation as a major hazard.
More
city of Seguin
---
Posted on 6/13/2018 7:43:00 AM.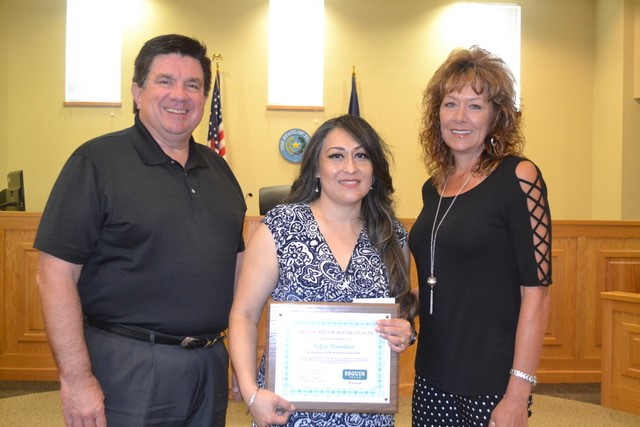 (Seguin) -- A city of Seguin employee apparently has a knack for working with unhappy Municipal Court customers. Getting a speeding ticket is not necessarily the thing that brings in happy people to begin with but for Sofia Penalver, city officials say she "somehow turns a difficult situation "that could involve traffic citations and/or court hearings into a positive review."
More
city of Seguin
---
Posted on 5/22/2018 7:13:00 AM.
(Seguin) -- Enrollment is now underway for the city of Seguin Parks and Recreation Just for Kids Summer Day Camp. Recreation Superintendent Lindsay Hajek says kids are invited to play and learn throughout the summer.
More
city of Seguin
---
Posted on 4/17/2018 7:28:00 AM.
(Seguin) -- The Seguin City Council recently approved architectural services with TSG Architects to provide renovation designs and specifications for a new Development Services Center. The center will be located at 108 E. Mountain Street. The facility will revitalize an empty, abandoned building (Cutcher Motors) at the corner of Mountain and River streets just north of Seguin City Hall.


Seguin City Council members originally balked at the proposed construction costs for the building, which to many of them seemed high for what was essentially office space. The new proposal brings construction costs down to a level around $191 per square foot. The lower costs per square foot gave the council the information it needed to allow the design phase to begin, with the hiriing of TSG Architects.
More
city of Seguin
---
Posted on 4/5/2018 7:28:00 AM.
(Seguin) -- The city of Seguin has reached a compromise with the owners of the Fields at Huber Ranch when it comes to parking concerns near the busy softball complex. The Seguin City Council had already approved a "No Parking" ordinance that would have further limited on-street parking near the facility on Huber Road.
More
city of Seguin
---
Next Entry