(Seguin) -- The Seguin ISD is celebrating the start of a brand new school year by featuring one of its key players on its team for student success. Although most of his time will be spent on the field at Matador Stadium, new Head Football Coach Anthony Boykin couldn't help but inspire and energize his fellow co-workers during Thursday morning's Back to School convocation at Goldie Harris Gymnasium.


Boykin says the real team members in the Seguin ISD are the employees. He says no matter where or how a person serves a child, they play an important role in their academic success.



"The biggest thing is that we're all in this together. They can feel free to come down and we'll talk and support each other because that's what it's all about. Again, it's really all about the kids. Everybody has that same focus.. It's going to be a great year. It's going to be a blessed year," said Boykin.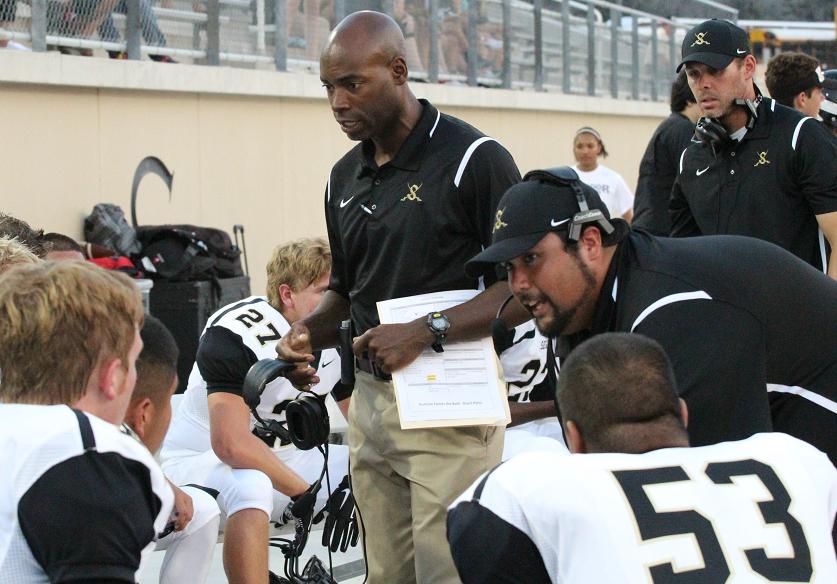 Boykin says the real success, however, comes in the partnerships that exist among the school district, the parents and community.

"Everything that we talk about in our processes, everything coming together. For instance today, I talked about the community, the parents, the teachers, the administration, the coaches, all coming together for the student athletes in my position and so what we do is we emphasize all of us doing our part. We all have different parts. We all come together before one body as I talked about Romans 12 – one body formed together for the good of our students," said Boykin.

During his presentation, Boykin led his fellow coaches across the gymnasium floor -- each encouraging employees to stand up and be proud of their respective roles in the district. Boykin who was applauded and thanked for his energy and enthusiasm after the program says those are just some of the attributes needed to engage the minds of kids and to achieve success as an employee.

"Well those are the kind of attributes that you got to have. You got to play the game with passion, particularly in football. Then, we talk about with the guys, living life with passion, not just surviving life, but thriving in life and everything they do. Going and striving and being the best that they can, competing at the highest levels in whatever endeavor of life they choose. Football is for coaches. It is our choice, but whatever the guys -- after they play football and finish their careers -- whatever they choose to do in life, their careers -- that they do it at the highest level. Don't just survive, go thrive, live with passion," said Boykin.



Team work was among the things encouraged during yesterday's program. Employees from the various schools and departments came out to compete against each other in friendly team building contests. One of them involved a race across half court using team building skis. Outracing their fellow co-workers were members of the Seguin ISD maintenance department.
Thursday's back to school celebration also included various performances by local students including Teatro De Artes' Mariachi and Ballet Folklorico Programs along with the high school cheerleaders, flag runners and the Seguin ISD All-Star Band which consist of all employees who play an instrument.

The Seguin ISD employs 1,100 people. The first day of school for the Seguin ISD is Monday, Aug. 25.