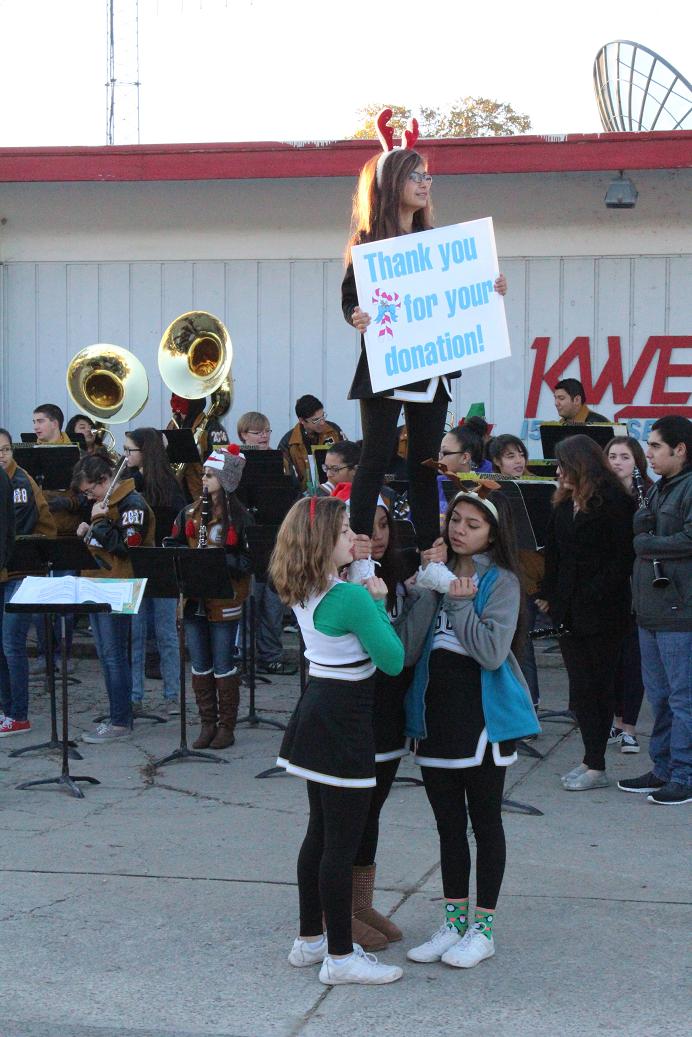 (Seguin) -- Another KWED Holiday Food and Toy drive is in the books. The Seguin community again came out in a big way early Friday morning to help support the Seguin Police Department's Blue Santa program and the Christian Cupboard. The annual drive was held from 7 to 9 a.m. outside Seguin Radio located at 609 E. Court St.

During the two hour period, 1,200 pounds of food, approximately three truck loads of toys and bikes and $4,900 in checks and cash were collected.

Community members, students, parents, elected officials, police officers, firefighters, civic groups, and more all showed up to collect and make donations to both Blue Santa and the Christian Cupboard.

Seguin Mayor Don Keil was among those braving the chilly weather to seek donations from those making their morning commute. Keil says he looks forward to the holiday drive each year.

"This is the time of year when people give. They give of themselves, they give their hearts, their souls and their minds to a better cause this time of year. It's so fulfilling to the community to give and to receive. I think it's so important that we all get out and participate in this wonderful activity. It's what makes living in a small town and a great community enjoyable and worthwhile and very fulfilling," said Keil.
Guadalupe County Judge Kyle Kutscher was also successful in getting folks to donate. Kutscher says although named the Seguin Police Department Blue Santa Program, donations collected assist those living beyond the city limits. He says donations extend to anyone who needs assistance in Guadalupe County.
"So many people are willing to come out and help for the cause. KWED and the school districts and the city, the county, Seguin Police Department, sheriff's office, all these people are willing to come out because they know everything that's given today is spread throughout the county to so many in people in need. It's not just centralized or located in one small area. We recognize that and appreciate it and it is so important because there are a lot of people out there that do need something," said Kutscher.
Seguin ISD Superintendent Stetson Roane was also eager to roll up his sleeves as he experienced his first holiday food and toy drive with KWED. Roane says he appreciates these type of efforts especially since they can impact many of their Seguin ISD families.
"Well, I just want to be a part of celebrating the new year and having the band here – seeing the people drive by and donate to the Blue Santa cause is just an awesome thing to be a part of. So I just want to spread some holiday cheer," said Roane.
The Seguin ISD, however, is not the only school district who benefits from the annual holiday collection. Navarro ISD Superintendent Dee Carter says this year is an even more important year for many of their families.
"Some of them of course are the families that were affected by the tornado and those families continue to have needs. I think especially at Christmas time that's going to be very important for them. A lot of them are still out of their homes. We're sending a bus and van to pick up children in other places so their schooling isn't interrupted and bringing them back to the home that they know and where they're comfortable. There are lots of other families as well that have particular needs. We've had several families who the bread winners have lost their jobs. Some of their job areas have experienced a downturn and we're very concerned for them," said Carter.
Entertainment was provided during the event by the Seguin High School Matador Band and the Jazz Band from Navarro High School. Seguin High School cheerleaders were also providing a little extra Matador spirit for all the volunteers who gathered in the street in front of the radio station to collect monetary donations this year.
Thank you to our generous sponsors, who helped make today's event possible. The list includes Jackie's Tacos to Go, Arlan's, Seguin Chevrolet, HEB, Chupacabra Java, Seguin Walmart and the Seguin Area Chamber of Commerce, Donut Palace and Tri-City Distributors.
A second collection drive hosted by the Seguin Police Department also proved worthwhile Friday night outside of Seguin's HEB store. The drive was designed to attract donations from those who were already shopping at HEB, Hastings and other surrounding businesses.