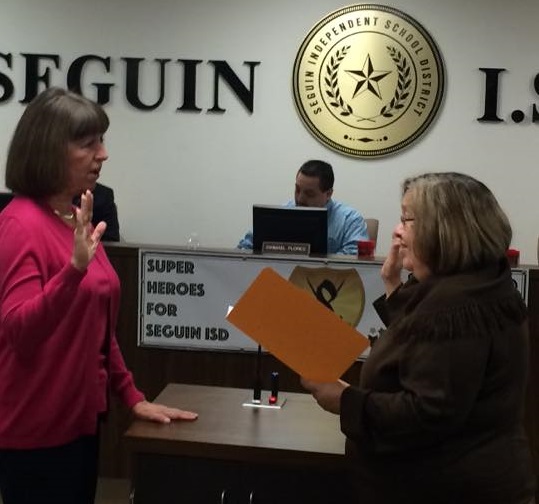 Carol Sewell, left, is the newest member of the Seguin ISD school board.
(Seguin) -- District 7 voters now have representation on the Seguin ISD Board of Trustrees. The board today (Friday) appointed Carol Sewell to the vacant seat on the school board. Sewell is relatively new to the area, but says she's excited about the opportunity to serve.
Sewell and local resident Lori Osborne were both considered for the position on Friday. The names may come as a surprise to some who did not realize that the school board was going to again open up the process for selecting an appointee.
Earlier this month, former Breisemeister Middle School Prinicipal Glenda Moreno and Seguin-Guadalupe County Hispanic Chamber of Commerce President Louis Ramirez were the only names submitted for the position. The board, last week, could not reach a decision on either candidate, so apparently it decided to reach out to others in the district.
The board choose Sewell unanimously and she was given the oath of office during the meeting. She replaces longtime Trustee Nancy Ayotte, who resigned in August due to illness.