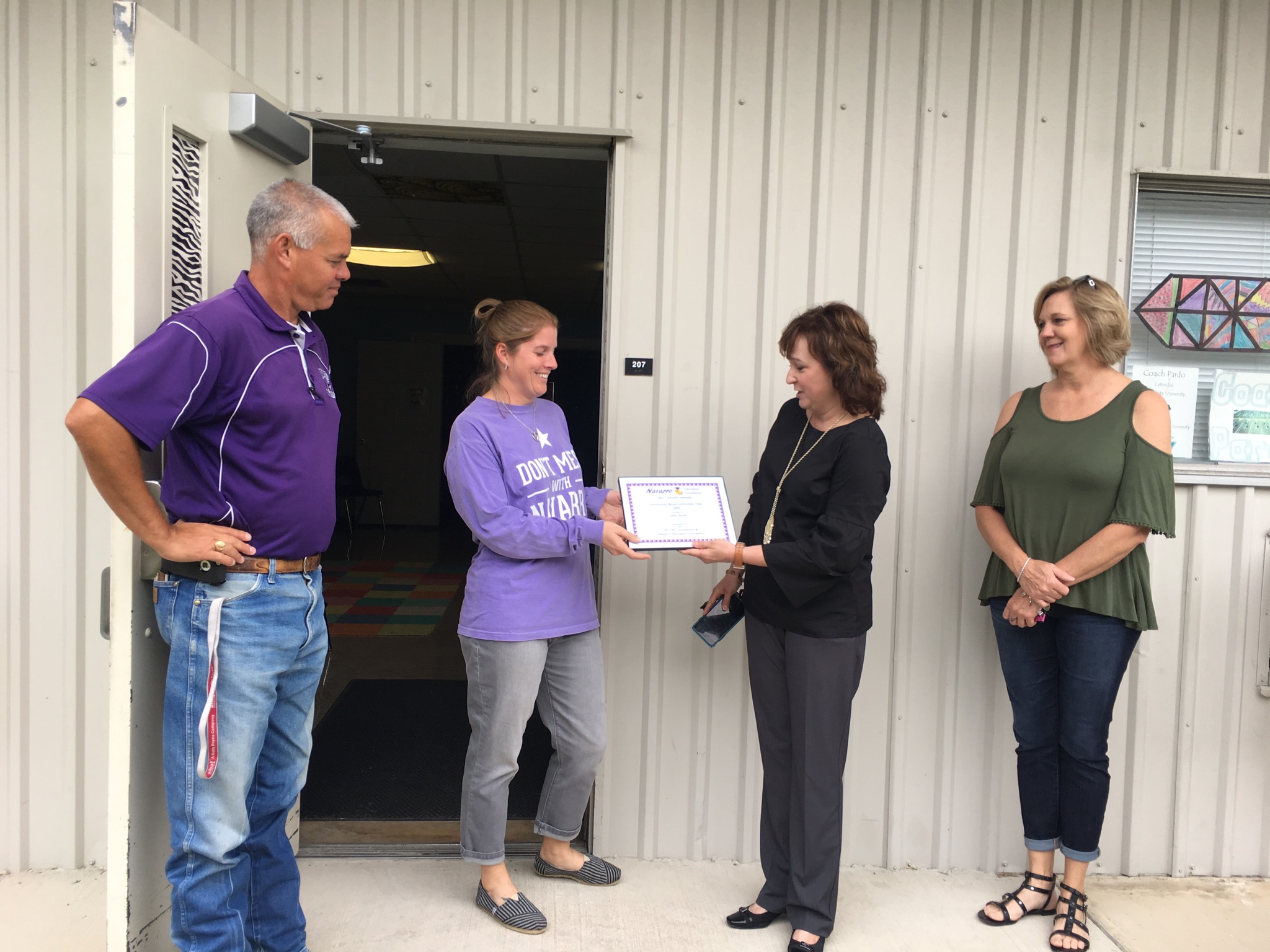 Navarro Education Foundation Members surprise Cathy Pardo, special education teacher at Navarro Junior High, with an $800 grant to help facilitate life skill field trips for students.
(Seguin) -- It was surprise after surprise for Navarro ISD teachers as the Navarro Education Foundation hand delivered over $48,500 in grants to classrooms district wide. Leading the charge on Friday was a core of business sponsors and members of the Navarro Education Foundation.

NEF President Katie Clark says thanks to its supporters and fundraising efforts, the foundation again was able to meet the needs of local students.

"Navarro Education Foundation raises funds, mostly from sponsors in that area, the local community. Our biggest fundraiser is Duck Fest which is in the spring. From those funds this year, we're giving $48,000 worth of classroom
grants. The teachers apply for up to $1,500 classroom grants to enrich their classrooms," said Clark.

Among those surprised at the junior high campus was School Librarian Kelli Gates. Gates was thrilled to learn that a new inspired initiative "Battle of the Books" would be made possible thanks to a $1,491 grant.

"Battle of the Books is something we started doing with Region 13 four years ago and then Region 13 stopped holding the Battle of the Books. I wanted our kids to still be able to participate, so I decided to just do one myself. I've invited
some area schools to participate and I've had a pretty good response. So I'm planning to look for a venue for that and then provide prizes," said Gates.

Gates says she believes being able to incorporate this innovative program at the junior high level will only enhance a student's passion and excitement for reading.

"I think that it's significant because it shows initiative from our students. Not only are they doing their classroom work but they're going above and beyond to read 20 additional books. It gives them a venue to meet with other people who are into books and stuff -- which you know, when you get to the junior high level, that's not always easy to find those kids. So meeting with Regional people in that capacity, I think gives them a great venue to find other people like them," said Gates.

Special Education Teacher/Coach Cathy Pardo was also caught off guard at her classroom to hear of an $800 surprise.

Pardo explained how this particular grant would help support community-based instruction trips for her students and their families.

"There are trips that take our students with special needs out into the community -- that helps with their social skills. We plan to do lunches, they'll go to the bank, they'll go to the library. They have to learn to order their own food, money management -- they have to pay for their lunch or the items that they're going to purchase. It gives them an opportunity to learn and become independent in the community where they might not have that opportunity at home as often," said Pardo.

Clark says thanks to the teachers, the foundation has been able to distribute the funds district wide. In the end, she says the group is there to support teachers and provide them with all the necessary tools for success.

"Fortunately with the funds that we raise, the majority of the teachers that apply for grants, get the grants. So it's really up to the teachers to come up with creative ideas to enrich the learning process. Some of the things that we're giving this year include musical instruments, field trips, bring in speakers, just to enrich their classrooms. Every year, we have a lot of technology that the teachers apply for, but there's definitely more to it than technology," said Clark.

Other grants also went to 48 books for an Intermediate Breakfast Book Club, a new third grade Spanish Club, Legos and even "bouncy chairs" for kids who might not often sit well in class."