(Guadalupe County) -- Guadalupe County voters will get to mark their ballots in several locally contested races. Today is the first day of early voting for the Republican and Democratic Primary Elections. The election is slated for Tuesday, March 6. The local ballot only includes contested Republican races and not Democratic positions.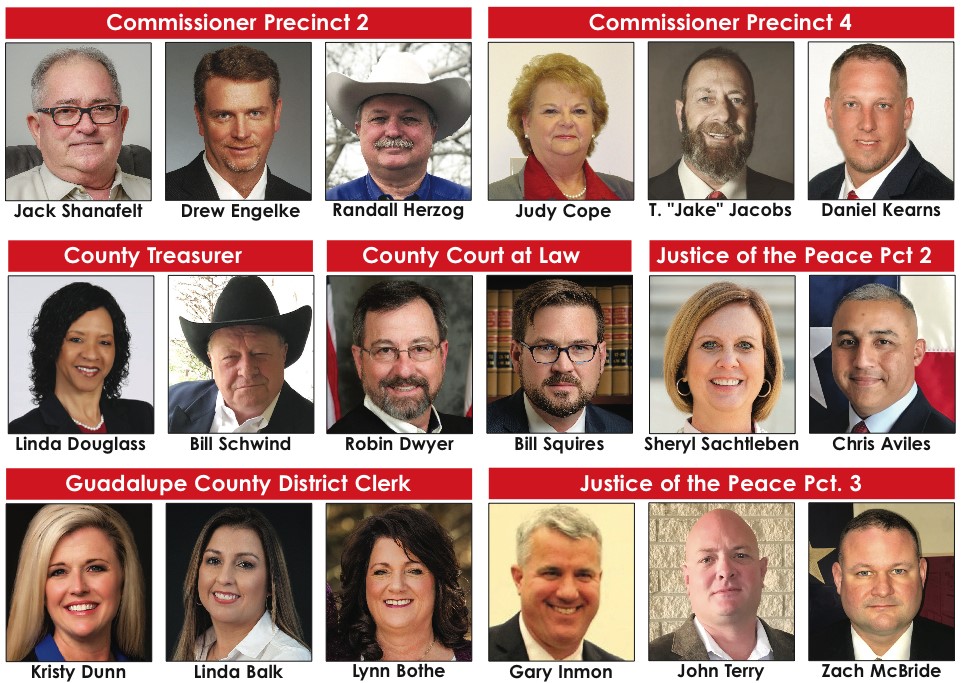 One of the more hotly contested races on the Republican ballot features the race for Guadalupe County Court-at-Law Judge. The incumbent is Judge Robin Dwyer. Dwyer is being challenged by current Assistant County Attorney Bill Squires.


The race for Guadalupe County District Clerk has drawn three candidates. The candidates are all seeking the Republication nomination. The position will be available at the start of 2019 following the retirement of District Clerk Debra Crow.
The candidates vying to replace her include Kristy Dunn, Linda Balk and Lynn Bothe.

Guadalupe County Treasurer Linda Douglass faces a challenger for the Republican nomination. Challenging her for the position is area businessman Bill Schwind.

The seat for Guadalupe County Commissioner Precinct 2 has also attracted three Republican candidates. They include incumbent Ralph "Jack" Shanafelt, and political newcomers Drew Engelke and Randall Herzog.

Incumbent Judy Cope, Guadalupe County Commissioner Precinct 4, also faces two candidates seeking the Republican nomination. They include candidates Daniel Kearns and T. "Jake" Jacobs. The winner of the Republican Primary will go on to face Democratic Candidate Rebecca "Becca" Tucker in November. Tucker is running unopposed in the Democratic primary.

The race for the GOP nomination for Precinct 2 Justice of the Peace features incumbent Sheryl Sachtleben, who faces newcomer Chris Aviles. The Justice of the Peace Pct. 3 position features three candidates looking to replace current Judge Roy Richard, who is not seeking reelection. The Republican Primary candidates include Gary Inmon, John Terry and Zachary "Zach" McBride. The winner of the GOP contest will go on to face Democratic Challenger Peggy Ornelas during the November General Election. Ornelas is running unopposed for the Democratic nomination.

Candidates not drawing any competition but still appearing on the Republican Primary ballot are Guadalupe County Judge Kyle Kutscher, Guadalupe County Court-at-Law Judge No. 2 Frank Follis, Guadalupe County Clerk Teresa Kiel, Precinct 1 Justice of the Peace Darrell Hunter and Precinct 4 Justice of the Peace Todd Friesenhahn.

Early voting begins today (Tuesday, Feb. 20) and runs through Friday, March 2.