Jeff Koehler, of The Shop at Design Associates, shows off the sign-up box at his store in downtown Seguin. The Shop is one of 12 locations participating in the Best Ever Valentines Day contest.

(Seguin) -- Seguin Radio KWED wants to get you in the mood for love this Valentine's Day. The radio station has teamed up with 12 local businesses to offer it's Best (Ever) Valentine's Day Contest.


KWED/Seguin Daily News General Manager Darren Dunn says the promotion is designed to help people find something special this year for their sweetheart, while helping them to remember that they don't need to leave town to find the right gift.

"We really were just trying to do something that was fun, unique and different and special for Valentine's Day this year. You know, Valentine's Day is a very busy shopping time, and we want people to always shop local first. We want those dollars to stay in this community, and we have some great retailers and great service providers that can take care of all of the folks' needs here in this community. That's one of the reasons why we came up with our Biggest and Best ever Valentine's Day promotion. We've got some terrific sponsors. We've got some great opportunities for folks to win prizes, and they need to stop by each one of these locations to register to win some terrific stuff," said Dunn.

Dunn says not only will people find the right gift or service for Valentine's Day, but they will also have 12 chances to win some great prizes from each sponsor. He says signing up for each prize has been made easy.



"So what people need to do, they need to go to each location and get signed up for one of those prizes. Each prize is valued at, at least $50. So you want to go by and see some of our sponsors. The list includes Dietz Flower Shop, Funky Monkey, The Shop at Design Associates, local massage therapist Cristina Rivera, Gift & Gourmet, Superior Cakes & Bakery, Keeper's Interiors & Furniture, San Anthony Jewelry, the Grain Bin Cafe & Store, Luvvit's Garden, Southern Good, and Bryan Spahn at Westerholm-Koehler Insurance. All of those are the locations that you need to visit before Feb. 13. Stop by each location, and look for the brightly decorated boxes, and put you name inside, and you'll be entered to win one of the great prizes that will be given away on Feb. 13. We'll have the drawing on that afternoon," said Dunn.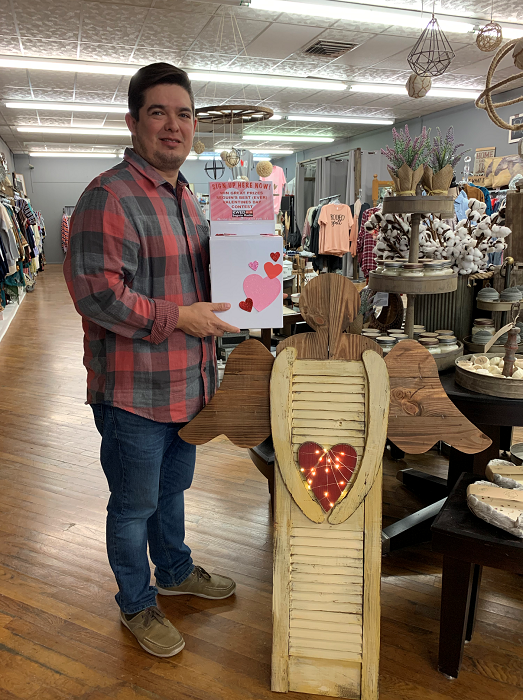 Ken Centeno, owner of Southern Good, is among the participants of Seguin's Best (Ever) Valentines Day Contest. The contest being held in conjunction with Seguin Radio KWED, is now underway at 12 business locations in Seguin. Customers are invited to simply visit one of the participating locations and sign up to win a prize. Photo Mary Jane Windle

Folks might have noticed the ad for the radio promotion that's currently running on KWED, that prominently features Dunn, who appears to be channeling his inner "Barry White." Dunn (A.K.A, the Love Doctor) says it was a lot of fun cutting the promo, which allowed him to take a walk down memory lane.

"We really did want to have some fun with this, and one of the neat things about this is that it gave me an opportunity to channel a much, much younger Darren Dunn. When I first got into this business, the first job that I ever had -- I was the late night, love dedication guy. It was all speaking in very quiet, deep, sexy tones -- and I played a lot of Luther Vandross. Luther always seemed to strike the right mood for each show. It was fun. Hopefully, it was a little funny too. I want people to support our sponsors, but I also want people to enjoy life here in Seguin, and I think this promotion helps them to do just that. Visit our sponsors, get signed up for these great prizes, and also pick up something special for your sweetie," said Dunn.



Again, Dunn says you can stop by each location to get signed up for a minimum $50 prize. There is no purchase necessary to win. A list of all of the sponsors, and their locations can also be found in today's edition of the Seguin Daily News, or on our website, www.seguintoday.com.