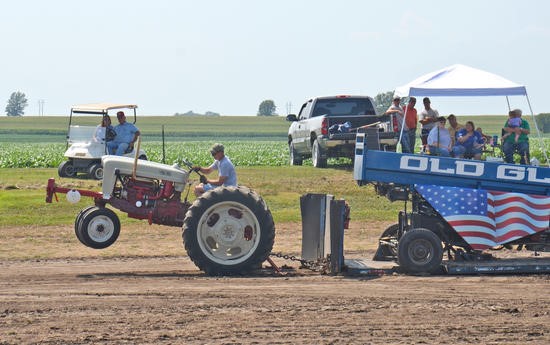 (Seguin) -- The Big Red Barn is getting ready to open its doors for a fun filled trifecta weekend.
Kay Willmann, of the Texas Agricultural Education and Heritage Center, says three separate events are being planned for this Saturday.


First, teams will be assembling for the annual 42 Tournament. The game of dominoes is often referred to as the "national game of Texas."
Willmann says Seguin is among the many towns throughout the state to host tournaments.
"We sponsor two tournaments here a year -- one in the spring and one in the fall. In the fall, we didn't have as much participation as we would have liked but they enjoyed every minute of it. Last spring when we had the 42 Tournament, the guys and gals sitting here and playing had no problem with visitors walking around to see what they were doing so that they could play down the road. They actually have some people playing in the tournament now that were just observing last year," said Willmann.
Cost is $40 per team in advance or $50 at the door. Registration for the 42 Tournament is available at texagedu.org. On-site registration will be held from 8 to 9 a.m. followed by play at 9 a.m. Saturday.
Second, families are invited to visit and shop the Farmer's Market and Artisan Fair. Willmann says the Farmer's Market offers an impressive list of goods in this area.
The Farmer's Market, we've been having that the first and third Saturdays of every month. We are looking for a great day. We have about 40 vendors who have signed up. Braune Farms comes every time. We usually have some baked goods. We have canned goods. We have a lady who makes homemade jams and breads and cakes. There's a gal that bakes Amish recipes. We have a gal who the name of her company is K&J Roasted Corn. She will have her food truck out here so there will be food available," said Willmann. "We have woodworkers. We have metal workers. We have seamstresses."
The Farmer's Market is free and gets underway at 9 a.m.
Third, families will get the chance to cheer on their most favorite tractor at this year's Tri-County Antique Tractor Pull. Willmann says the event is hosted by the Tri-County Antique Pulling Association.
"We usually don't even know how many are going to come and participate. It's farmers. So it depends on where they are. But in prior years, we've had as many as 100 tractors participate. So, it is always fun to just be here and watch," said Willmann.
The antique tractor pull will get started at 10 a.m. Saturday. Spectator tickets for the tractor pull are $5.
Spectators are reminded to bring their lawn chairs and sunscreen. The Big Red Barn is located at 380 Cordova Rd.