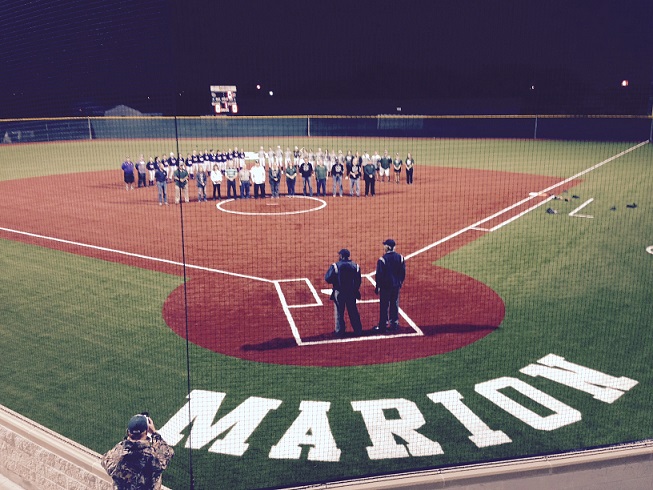 Players, school disrict officials, and community members gathered on the synthetic turf of Marion ISD's new softball stadium Friday night during the facility's opening ceremonies.
(Marion) - The synthetic turf field at Marion High School's newly constructed on-campus softball stadium paid immediate dividends after the facility's unveiling Friday night, as the Bulldogs played through the rain to win their third straight District 27-3A game, 8-0 over Stockdale.
Marion head coach Robert Young reminisced about the candellations and scheduling headaches that would have accompanied last week's weather in previous seasons, and saw a bit of poetic justice in the new turf's first test happening on a rainy night.
"The coach from Stockdale and I were talking about it before, he goes 'man this is great - I wish every school in Texas did this', and that's what it's coming to," Young said. "It takes a lot out of a team, there's a lot of preparation that goes in, and a lot of scheduling, and then because of an act of God, something happens and we can't play, and sometimes our fields are in such poor condition that we can't play for three or four days if it rains. Today, it rained throughout the whole game, and we did just fine."
Marion starting pitcher Madison Moos did more than just fine. The right-handed senior tossed a three-hit shutout and struck out 12 to earn the complete-game win. Moos fanned the first five Brahmas she faced and six of the first seven, and Stockdale only placed two runners in scoring position the entire game. Young sees Moos finding command of her pitches at an opportune time in the season.
"She's been working hard, coming off of a little injury. We don't want her in full stride right now, but she'll get there."
The Bulldogs wasted no time giving Moos ample run support. Brianna Randle led off the bottom of the first with a double and came home on a bunt-single by Kyleigh Mulanax. Mulanax took second and third on wild pitches before scoring on an error, and Madison Ross walked with the bases loaded to drive in Moos's courtesry runner Toryn Autry, giving Marion a 3-0 lead.
Brianna's second double led off the bottom of the second inning, and Caitlyn Krueger's RBI-single plated Randle. Krueger stole second and took third on a passed ball, and Moos drove her in to put the Bulldogs in front 5-0.
Alexis Long bunted for a base hit to start Marion's half of the third, stole second and advanced to third on an error, and trotted home on Randle's third straight double. Randle scored on a Stockdale error after a Krueger ground ball, and Krueger came home on a wild pitch to make in an 8-0 game.
Randle finished 3-3 with three doubles, three runs scored, and one RBI. Krueger and Mulanax each went 2-4 and drove in a run, with Krueger scoring twice and Mulanax crossing the plate once. Moos finished 1-3 with a walk and an RBI. Madelyn Abrameit went 1-3 with a sacrifice bunt, and Long was 1-4 with a stolen base and a run scored. Ashley Laubach walked three times, while Ross drew two walks and drove in a run.
After a few rough stretches in non-district play, the Bulldogs are off to a 3-0 start against 27-3A competition. Young says every win his team can stockpile is critical in what figures to be a tight race for the four available playoff spots.
"With the change of districts, we knew that it was going to be rough because we had five teams in this district that went three to four rounds deep last year. It was going to be a shame that somebody has a chance to be left out in the dark, and we knew that real early, we were going to have to an x amount of games just to get into the playoffs. We've got three of them so far, so we're on our way."
Marion is on spring break this week, so the Bulldogs (7-10-1, 3-0) today in Yoakum and Tuesday at home against Hallettsville. Both games are slated for a noon first pitch.