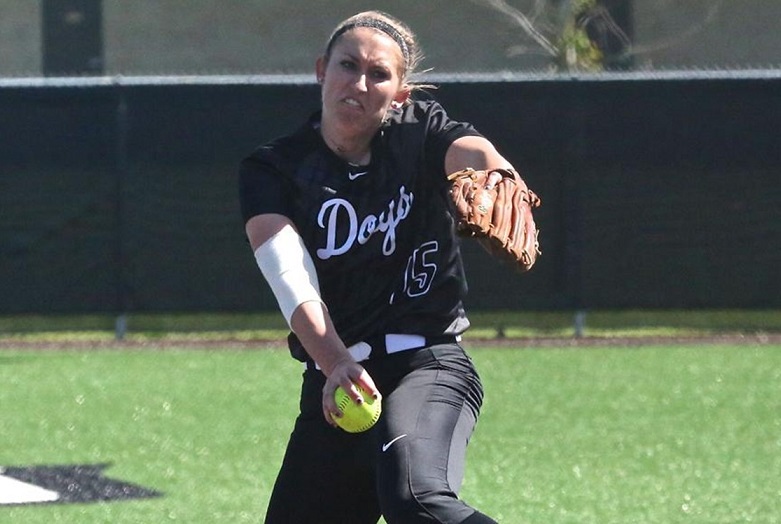 TLU senior Amanda Lochte pitched a one-hitter and struck out seven in Monday's series finale against Schreiner.
(Seguin) - Texas Lutheran junior right-hander Maitlin Raycroft tossed her third consecutive no-hitter, the 17th no-hitter in school history, as the Bulldogs swept a four-game conference series against Schreiner on Sunday and Monday to stretch their winning streak to ten games.
Raycroft's no-hitter came in the 8-0 run-rule win for TLU in the second game of the Sunday's series opening doubleheader. TLU took the first game 6-3.
Nicole Snow belted a walk-off solo home run in the fifth inning of game two to give TLU the 8-0 advantage. The home run ended the game due to the run rule. Raycroft struck out nine and walked one.
In the early game, freshman right-hander Lauren Myers registered four innings of shutout relief. Myers appeared in the fourth inning in relief of Amanda Lochte.
Myers struck out four and walked one in her first varsity appearance. She picked up her first collegiate win and improved to 1-0.
In the early game, Kelsie McEachern drove in a pair of runs, and Brayden Pinckard, Madisyn Cates and Kaymee Gooden each added RBI.
TLU managed just four hits in the first game, but the Bulldogs stole eight bases.
In game two, Snow delivered two RBI, and Pinckard, McEachern and Courtney Mica each drove in a run.
TLU stole six more bases in the second game. Pinckard and Mica each had three stolen bases during the doubleheader.
Texas Lutheran held Schreiner to three hits on Monday in a pair of 8-0 five-inning victories to close the series.
The Bulldogs improved to 10-4 overall and to 6-0 in the SCAC. Schreiner fell to 9-11 overall and to 3-5 in the SCAC.
Raycroft tossed a two-hit shutout in the early game, and Lochte finished with a one-hit shutout in the late game.
Raycroft's streak of three consecutive no-hitters was snapped, but she ran her scoreless-inning streak to 24. The junior right-hander struck out six and did not walk a batter. Raycroft improved to 5-2 overall.
Lochte, the senior right-hander, struck out seven and walked two in pushing her pitching mark to 4-1.
McEachern hit a three-run home run in the first inning of the first game. She went 3-for-3 with two runs scored and four RBI. In game two, she went 1-for-2 with a run scored.
Cates collected a pair of hits and drove in a pair in the first game, and she recorded a hit and an RBI in the second game.
Gooden ended the second game with a walk-off two-run home run. She was 2-for-3 in the late game with three RBI.
Cassie Roche went 2-for-2 with four RBI in the late game.
TLU hosts Hardin-Simmons in non-conference action Wednesday at 1 p.m. at Ed Kruse Stadium. TLU will have live video and live stats for both games of the doubleheader.