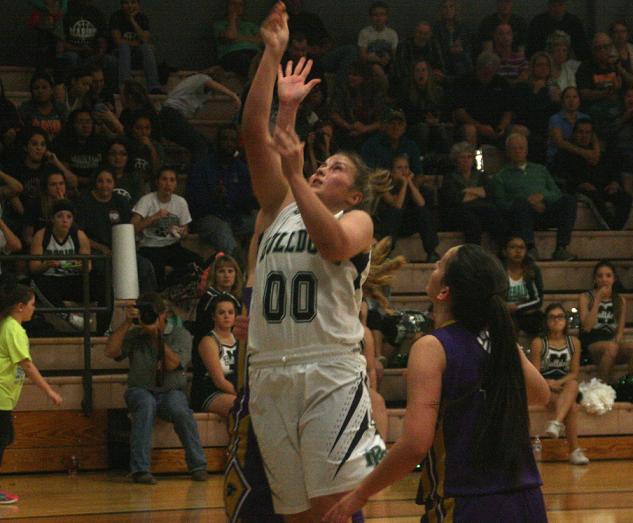 Natalie Deml Brianna Randle
(Marion) – Marion High School senior Natalie Deml and junior Brianna Randle were both voted to the Texas Girls Coaches Association All-State basketball team for Class-3A, and five other Bulldogs joined them in receiving post-season recognition on the 27-3A All-District team.
Deml, Marion's starting point guard before suffering a season ending ACL injury late in the district schedule, averaged 11.8 points, 4.1 rebounds, 3.4 assists, and 3.9 steals per game. Randle, a multi-position player who spent time as a post and as a guard this past season, averaged 10.0 points, 6.3 rebounds, and 2.6 steals per game.
Deml was also named the MVP of District 27-3A, in addition to making the TGCA and TABC Academic All-State teams as well as the Academic All-District team.
Randle was joined by Madelyn Abrameit and Stacey Radtke on the All-District first team. Abrameit, junior guard, averaged 10 points, 4.6 rebounds, 2.4 assists, and 2.1 steals per game. Radtke, a senior post and Texas Lutheran commit, produced 6.7 points, 8.1 rebounds, and 2.5 blocks per contest.
Samantha Hopper, a junior forward, was named the District Defensive MVP. She averaged 5.4 rebounds and 2.7 steals per game in addition to producing 8.6 points per outing on the offensive end of the floor.
Alex Leos, a senior guard, was named the District Sixth Man of the Year after scoring 5.4 points per game off the bench.
Hopper, Abrameit, Randle, and Radtke each made the Academic All-District team, and Radtke was an Academic All-State honoree by both the TABC and the TGCA.
Junior forward Madison Batey was a second team All-District selection. She averaged 5.9 rebounds per game to go with a 3.0 scoring average.
Batey, Sierra Knight, Zada Washington, Becca Svochak, and manager Kalli Caddell were Academic All-District selections. Washington made the TABC Academic All-State team, and Caddell was honored in similar fashion by the TGCA.
The 2017 Bulldogs went 27-9, won the District 27-3A championship, and advanced to the Region IV tournament for the seventh time in Kollyn McWhinney's 13 seasons as the program's head coach.