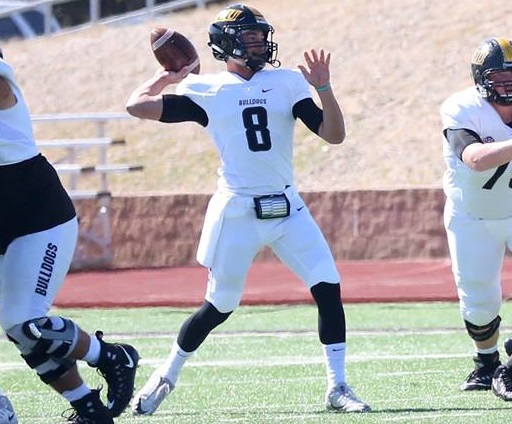 Junior quarterback Kyle Grona threw for a career-high 461 yards and four touchdowns in TLU's win over Howard Payne last week. Photo by Ambyr Fisher.
(Alpine) - Texas Lutheran football looks to notch its fourth consecutive road win and second straight American Southwest Conference victory Saturday when the Bulldogs visit Sul Ross State at Jackson Field in Alpine.
TLU is 5-3 overall, 5-2 in the ASC under first-year head coach Carl Gustafson after a dominant 63-21 win over Howard Payne in Brownwood last Saturday. Sul Ross State, coached by John Pearce, dropped to 4-4 on the season and 3-4 in conference play last week in a 42-28 Homecoming loss to East Texas Baptist.
The 34th meeting between the programs (SRSU leads 18-15) features two of the ASC's top dual-threat quarterbacks. TLU junior Kyle Grona ranks fourth in the conference in total offense (263 yards per game), entering Saturday with 481 yards and 9 touchdowns on the ground to go with 1,623 yards and 12 scores through the air after throwing for career-highs of 461 and four touchdowns against HPU last week. Sul Ross State's James Davis has thrown for 1,368 yards and 10 touchdowns, and leads the Lobos in rushing with 358 yards and four scores.
Byron Jones (28 rec., 479 yds., 5 TD) and Steven Savedra (26 rec., 337 yds., 4 TD) have been Davis's favorite targets. TLU's balanced receiving corps features five players who have caught two touchdown passes - J.B. Brown, Logan Thompson, C.J. Romero, Reggie Jackson, and Jekovan Holmes.
Grona is only one cog in a TLU rushing attack that has produced 239.8 yards per game. Running-backs Chris Monroe 359 yds., 5 TD) and Jordan Braden (326 yds., 2 TD) rank among the ASC's top ten rushers, and Ian Leslie (320 yds., 4 TD) is returning to health after dealing with some injury issues. In addition to paving the way for the running game, TLU's offensive line has given up the fewest sacks in the ASC this season, allowing opponents to reach the quarterback just eight times in eight games.
The Bulldogs look to slow down SRSU with a young and improving defense that coralled three intercepions last week against McMurry, including freshman cornerback Coulton Hamby's first career pick-six.
TLU ranks No. 2 in the ASC in rushing defense, allowing just 77.8 yards per game and 2.7 per carry, and in total sacks with 26. Sophomore defensive end Manny Longoria is the league's individual sack leader with 7.5, freshman safety James Bell tops the conference with five interceptions, and sophomore defensive tackle Nwankwa Nwankwa has notched an ASC-high three forced fumbles.
TLU and Sul Ross State kick off at 6 p.m. Saturday at Jackson Field in Alpine. The game will air live on KWED 1580 AM and Seguintoday.com, with streaming video available at tlubulldogs.com. Pre-game coverage starts at 5:30 p.m.