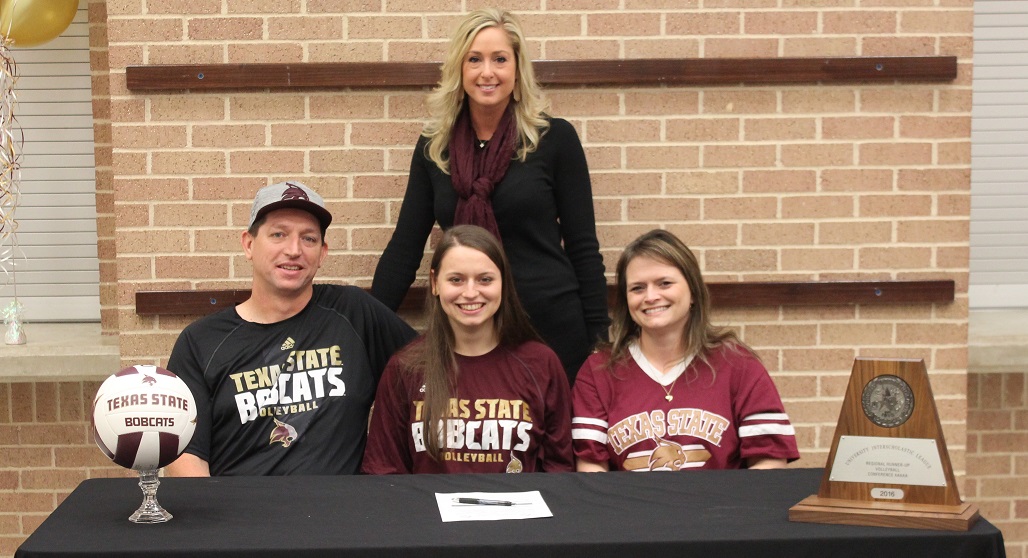 Seguin volleybal standout Kaylie Koenen (front center) is pictured with her parents and Seguin head volleyball coach Kristi Stanley after signing a National Letter of Intent to continue her playing career at Texas State University on Wednesday. Photo courtesy of Sean Hoffmann, Seguin ISD.
(Seguin) – Seguin High School senior Kaylie Koenen signed a National Letter of Intent to play collegiate volleyball at the NCAA Division I level Wednesday morning, finalizing her commitment to Texas State University during a signing event in the Goldie Harris Gym foyer.
Koenen, a four-year varsity player and the Matadors' defensive anchor at the libero the past two seasons, says Texas State was a darkhorse candidate initially, but ultimately won her over as the recruiting process unfolded.
"Texas State was not at the top of the list when I first received my offer from them," Koenen said. "I didn't think that was where I belonged until I went on a visit, and on that visit I got to tour the school, and hang out with the coaches and the team, and see how they ran their program, and I absolutely fell in love, and from that day forward, I knew. It was just a feeling inside me that I knew that's where I belonged, and that's where I would be treated like family, but challenged and pushed to that next level."
Koenen was an All-District selection in 2016 after collecting a team-high 665 digs and sending a team-best 68 aces over the net. This year's All-District accolades won't be announced until the last of the 26-5A teams in the UIL playoffs are eliminated, but Koenen figures to be honored again after recorded 558 digs and 57 aces for veteran head coach Kristi Stanley's 2017 Matadors.
"They are getting an amazing young lady going to Texas State," Stanley said. "I feel blessed – I coached her for nine years – she actually started on Strikers with me when she was nine, so she's like a part of me. She can read my mind. I cannot say enough good things about her. She is absolutely above and beyond a top-notch kid – academics, great player on the court, great leader, great focus, keeps our team steady. She's just an amazing kid, and there are not enough words to describe my love for her."
An added bonus in choosing Texas State over other suitors is Koenen's family only being a short drive away from San Marcos to be able to watch her matches with the Bobcats.
"My parents didn't pressure me, but they're very, very thrilled that I'll be playing close to home, because they've only missed one of my volleyball games ever, and that was for my sister's wedding rehearsal dinner, and so they're very, very supportive and glad that they'll be able to continue to do that easily."
Koenen is part of a Seguin senior class that helped the volleyball program advance a total of 10 playoff rounds over the past three seasons. She plans to pursue a degree in business marketing at Texas State.