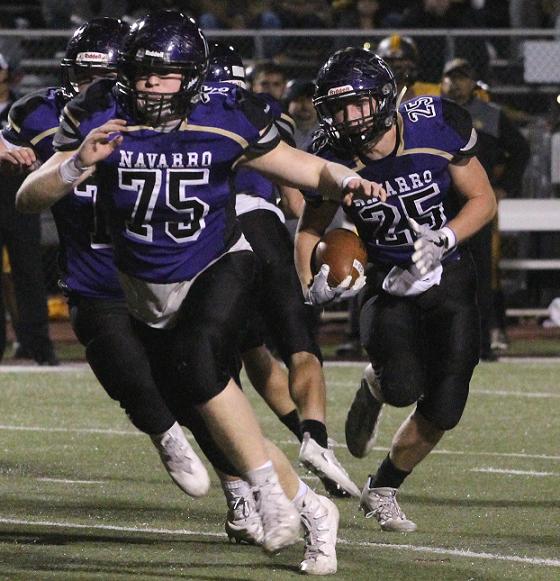 Navarro seniors Colton Barnett (75) and Tyler Law (25) hope to extend their final high school football season with a third-round playoff win over Cuero tonight. Photo by Andie Rangel.
By Mike McBride, Sports Director
(San Antonio) – Navarro vs. Cuero has become an annual tradition in the UIL football playoffs over the past half-decade, and the series continues for the fifth straight season tonight when the Panthers and Gobblers square off in the 4A Division II Region IV semifinals at Heroes Stadium in San Antonio.
Cuero eliminated Navarro in the first three meetings from 2013 – 2015, but the Panthers finally turned the tables a year ago with a 35-21 win in the Region IV championship game at Alamo Stadium.
Navarro, ranked as high as No. 8 in the various 4A Division II state polls, replaced three starting running backs, its entire receiving corps, two defensive line starters, four starting linebackers, and two starting defensive backs in the off-season, but the Panthers' revamped lineup has still managed to go 11-1 with playoff wins over Devine (42-7) and Rio Hondo (71-44) in Les Goad's 11th season as head coach.
Travis Reeve's Cuero squad, ranked as high as No. 2 in the state with 14 returning starters from last year, has been the most dominant team in Region IV by a considerable margin.
The 11-0 Gobblers have outscored opponents by an average count of 57.2 to 8.7, they've only scored less than 50 points in one game (a 23-16 win over Sweeny on Oct. 13 – their only win by less than 28 points), and they've topped the 60-point mark in five straight contests coming into tonight.
After winning the District 15-4A-Division II title during the regular season, Cuero opened the playoffs with a 67-10 win over West Oso and followed with a 70-7 shellacking of Crystal City last week.
Navarro's defensive challenge tonight is to tame Cuero's skill position trio of junior receiver Jordan Whittington, junior running-back Keiran Grant, and senior quarterback Drew Riemenschneider.
Whittington, last year's District 15 MVP, is rated a four or five star recruit, depending on the scouting service, and is considered the No. 5 receiver nationally in the Class of 2019. He enters tonight with 62 receptions for 1,233 yards and 21 total touchdowns (14 receiving, 5 rushing, one punt return, and one interception return.)
Grant has piled up 1,422 rushing yards and 29 touchdowns, while Riemenschneider has completed 75 percent of his passes for 1,850 yards and 22 scores with only three interceptions.
Defending the pass has been Navarro's Achilles heel at times this season. The Panthers surrendered 344 yards and six touchdowns to Wimberley quarterback Jordan Weeks in an October loss, and 447 yards and four scores to Rio Hondo's Tyler Bush last week. Goad hopes his defense can apply the lessons learned from those games against Cuero tonight.
"It goes back to the same things we tried to do last week, and of course against Wimberley when we played them in district," Goad said. "We've got to try not to give up big plays. We have to try to keep them in front of us, try to make them grind it out to some degree, try to get the quarterback bottled up like last week, we've got to try to get some sacks, and then of course on our offense, we've got to control the ball."
Navarro's Slot-T rushing attack has achieved its ball control mission against most opponents in 2018.
The Panthers average 355.3 rushing yards per game behind the dominant offensive line of Michael Gilbert, Ty Brumley, Garrett Dietert, Colton Barnett, and Wyatt Tatte, and with a talented backfield led by junior fullback Chris Gomez (984 yds, 14 TD) and senior quarterback Will Eveld (981 yds., 14 TD).
Gomez churned out 167 yards and five scores on 16 carries against Rio Hondo last Friday.
The Pantherrs look to keep the chains moving tonight against the best defense they've faced all season.
Cuero features five All-District returnees on that side of the ball in tackle Bradley Perez, linebackers John Rodriguez, Claevon Patton, and Cole Toller, and Grant in the secondary.
The Gobblers haven't allowed more than 21 points in a game all season.
Goad says moving the ball against Cuero involves a more tedious process than simply winning the line of scrimmage.
"The question mark and the issue is not going to be totally as much just what are we doing with the defensive line, but are we getting to those linebackers, and are we going to allow the safeties and so forth to fill those gaps at the line of scrimmage, which we've seen some teams do with that kind of skill before," the coach said. "It's going to be a total team effort on that side of the ball. I do feel good about our offensive line matchup, but we are going to have to get to the linebackers."
The Panthers and Gobblers are set for a 7:30 p.m. kickoff at Heroes Stadium tonight. The game will air live on KWED 1580 AM and Seguintoday.com, with pre-game coverage at 7:00.