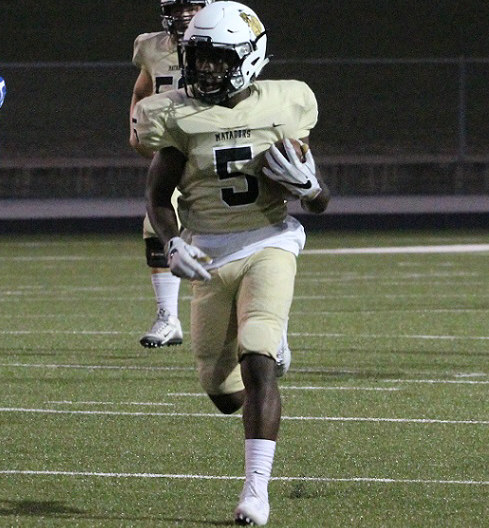 (From Left) Hayden Haas, Jacob Berkley, and Garrett Luensmann. Matador photos by Andie Rangel.
(Seguin) – Wins were elusive through much of Seguin's 2017 football season, but the coaches in District 26-5A still recognized the team's efforts by voting 16 Matadors to the All-District awards list.
Junior receiver Hayden Haas, senior linebacker Garrett Luensmann, and junior kick returner Jacob Berkley headline Seguin's honorees with First Team All-District nods on offense, defense, and special teams, respectively.
Haas was one of the most productive receivers in 5A Region IV with 1,055 yards and 12 touchdowns on 55 receptions.
Luensmann, who will play in the San Antonio Sports All-Star Football Game in January, led the Seguin defense with 125 tackles, and also recorded five tackles-for-loss, one interception, and one rushing touchdown on the offensive side of the ball.
Berkley piled up 396 return yards, including a 90-yard kick return for a touchdown in the season opener against Austin-Travis, and he contributed offensively as well with 41 catches for 440 yards and four touchdowns.
Seguin's Second-Team All-District selections include senior lineman Harley Ullrich on the offensive side of the ball, as well as senior tackle Keane Davis, sophomore defensive end Chance Brewster, junior linebacker Kyle Kolbe, senior defensive back Brandon Palomares, and junior rover/ utility player Deryn Taylor on defense.
Davis recorded 89 tackles, seven tackles-for-loss, and five sacks in 2017. Kolbe finished with 74 tackles, and Taylor notched 91 tackles to go with a team-high four interceptions. A year after making the All-District first team as a running-back on the offensive side of the ball, Palomares earned Second-Team recognition on defense with a 71-tackle season.
The Matadors' Honorable Mention list on offense includes sophomore quarterback Jhaelen Mickles (1,118 total yards, 12 total TD), senior running-back Clarence Tibbs (625 rushing yards, 6 total TD), senior receiver Brian Cash (51 rec., 521 yds., 6 TD), senior receiver Michael Mickles (27 rec., 278 yds., 1 TD), junior offensive lineman Francisco Ledesma, and sophomore offensive lineman Josh Avalos.
Senior cornerback Jaevon Clemons (37 tackles) received Honorable Mention on defense.
Seguin went 2-8 overall with a 1-6 distirct record in Travis Bush's second season as head coach.