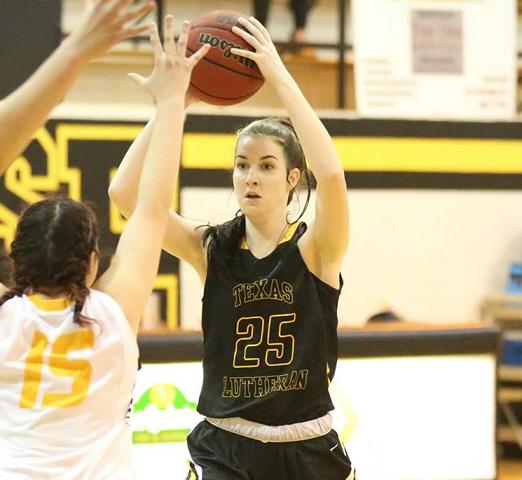 Junior post Presley Stephens (25) grabbed 17 rebounds in two SCAC games over the weekend for TLU.
(Seguin) – A week after defeating the University of Dallas and falling to Colorado College on the road, the Texas Lutheran women's basketball team flipped the script at home, losing to Dallas 64-52 Friday night and knocking off Colorado College 62-50 on Saturday at Memorial Gymnasium in Seguin.
Dallas held Texas Lutheran to 22.6 percent shooting in the second half of Friday's game.
The Bulldogs went 19-for-62 (30.6 percent) from the field overall and shot 24 percent (6-for-24) from the three-point line for the game.
Dallas posted 27 points to TLU's 10 in the fourth quarter.
Presley Stephens and Abby Hroch each pulled down nine rebounds for the Bulldogs. Stephens added seven points and four steals.
Cami Davis recorded 13 points, four assists, one steal and one rebound. Dominique Campos posted 11 points, five rebounds, four assists and two steals.
Bryanna Delgado scored her 10 points in the first half for TLU. Delgado made four steals and grabbed three rebounds.
Madilyne Borjon paved the way for the Crusaders, recording 19 points. She added four rebounds, a block and a steal.
Vanessa Diaz and Helen Onyenso both scored 14. Diaz posted 12 points in the second half for Dallas. Onyenso added 11 rebounds.
Saturday, TLU cruised to a 28-11 halftime lead and fought off a second-half charge from Colorado College.
The Bulldogs improved to 7-12 overall and 3-5 in the Southern Collegiate Athletic Conference.
Colorado College fell to 7-13 overall and to 4-5 in conference.
TLU held the Tigers to five points in the first quarter and to six points in the second. At one point, the Bulldogs held an 18-point lead in the first half.
TLU took off in the third quarter, leading Colorado College 41-21 with 3:38 left on the clock.
Cami Davis led TLU with 20 points in 34 minutes of action. The junior guard was 4-for-9 from the field. She grabbed four rebounds, posted five assists and had three steals.
Sophomore guard Dominique Campos led the squad in rebounds, pulling down seven. She added 10 points, five assists and two steals for the Bulldogs.
Freshmen forward Abby Hroch scored 11 points and pulled down five rebounds.
Presley Stephens had three blocks to go along with her eight rebounds. The junior forward added one steal and one assist.
The Tigers shot 19 percent (4-for-21) in the first half and ended the game at 30.4 percent (17-for-56).
TLU posted 18 points in the paint to Colorado's six. The Bulldogs hit 40.8 percent of their total shots.
The Bulldogs host Southwestern University at 7:30 p.m. Tuesday in Memorial Gymnasium. TLU will have live video and stats on tlubulldogs.com.