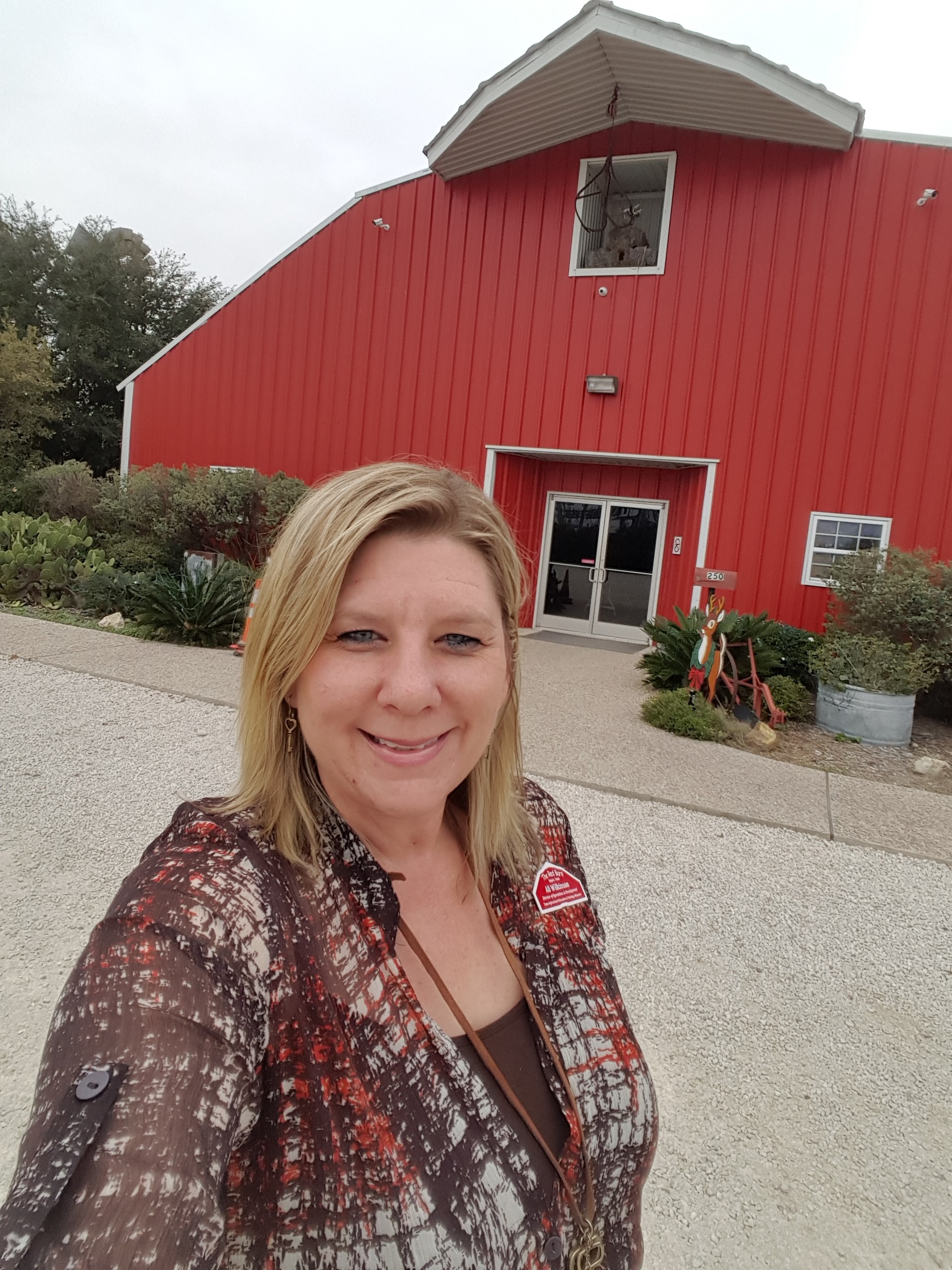 What is your current occupation (or where do you attend school), and what does that involve?
"Director of Operations & Development at the Texas Agricultural Education & Heritage Center – a.k.a. The Big Red Barn -- I am new
to the barn and am working toward updating the center as well as promoting to new school districts and private schools for spring school tours as well as promoting the venue for events, business meetings, parties, weddings and receptions. I am also working on promoting our Pecan Museum."
What do you do off the clock "Just for fun?"
"Off the clock, I like to volunteer, train with my coach, spend time with my family and friends. I am currently training for a half marathon in April as well as eight other Five and 10k's for 2017."
What city and state were you born in?
"Houston, TX"
Who are the members of your immediate family?
"My husband of 15 years, Stoney and daughters Brianna and Chassadi"
What is the biggest challenge you've ever faced?
"The biggest challenge I have faced was coming to the realization that I have to take care of myself before I can take care of others. Making myself a priority. I am always am taking care of others and making sure everyone is fine before even considering taking care of my needs. It has to be a healthy balance."
What is your favorite TV show and movie?
"Currently, my favorite TV show is American Housewife. I can relate with the mom/wife! Movie - Secondhand Lions. What a beautiful story."
What type of music do you enjoy (favorite band, song, etc…)?
"I love to listen to live music. Our area has such talented musicians - we love to catch some of the local bands when we can."
What is your favorite Seguin business and restaurant?
"Favorite Seguin business - Bling & More, we have many great boutiques in our town. Favorite Out of Town business - The Orange Poppy in Marion. Favorite Seguin restaurant - Noe's Mexican Restaurant, Favorite out of town restaurant - Brietzke Station in New Berlin."
What is something folks may not really know about you?
"I am a good coordinator of events and people. I love working with lots of different people, vendors and volunteers to see what type of awesome events or fundraisers we can come up with!"
If you could assemble a dinner party with any five guests (living or dead) -excluding immediate living family members - who would they be?
"You know I'm not a star struck type of person. I am happiest with being around my friends and family - and that would be and always is the best dinner party."
What are your roles in the community?
"I am becoming more involved with the Seguin Chamber of Commerce. Currently, I am coordinating a Bridal & Quince Expo, being held on Jan. 29 at The Big Red Barn and am promoting our wonderful school tours at center. I am also a part of on the Seguin Citizens Police Alumni Association, Seguin Parrot Head Club as well as a lifetime member of the San Antonio Livestock Exposition."
Discuss your professional background/achievements/leadership roles. "I have degrees in marketing and business management and have worked with several non profits helping with volunteers as well as fundraising. As a family, we do a lot of volunteering with the San Antonio Livestock Exposition."
What are this proudest moments in your personal life or in your career?
"Proudest moment in my life was adopting our daughters and becoming a forever family."
What do you believe are the strengths of this community?
"Our community has so many talented and giving people. There are so many opportunities to lend a helping hand with several wonderful organizations. It is always fulfilling to help where needed."
What do you find as the most interesting thing about Seguin?
"I love that we are the home of the world's largest pecan! We are the pecan capital of the world - such a great industry that thrives and supports many families."
What are your future plans?
"My future plans are to promote more of the Big Red Barn and the educational aspect of the agricultural field. Our farmers and ranchers are very important to our society. It is important for people to understand that agriculture will always be part of our lives and we must protect, support and advocate for our local farmers."
What message do you have for the residents of Seguin?
"Remember to support your local businesses - keep your hard earned money here where you live. Support those businesses who choose to keep their businesses and homes here. We will be featuring several of our local hometown businesses at the Bridal & Quince Expo at the Big Red Barn on Sunday, Jan. 29th noon to 5 pm. Five dollar entry. We will have food trucks as well. Come and book
your event and all your party needs with our locals! Service exhibitors can call 830-379-0933 to book a booth."