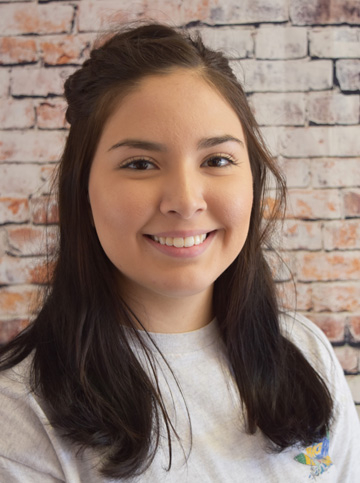 What is your current occupation?
"Child care provider at Sprouts Learning Academy"
What does that involve?
"Teaching the kids, helping out the teachers, lots of giggles"
What do you do off the clock "just for fun"?
"Shopping, browsing pet stores"
When and where were you born?
"Galveston, Oct. 24, 1998"
What's the most recent book you've read?
"How to Put a Lion to Bed"
What is the best advice you've ever received?
"Control the things you can and deal with what you can't"
What is the biggest challenge you've ever faced?
"Accepting unwanted change"
If you had to describe yourself in just two words, what would they be?
"Reserved, forgiving"
What inspires you?
"Quiet moments"
If you could assemble a dinner party with any five guests (living or
dead), who would they be?
"Mark Wahlberg and his immediate family"
What is your favorite TV show and why?
"Workaholics, it's so hilarious"
What are your roles in the community?
"I donate clothes"
What is your educational background?
"Just graduated Seguin High School"
What's your professional background/achievements/leadership roles?
"I used to be a lifeguard."
Share your family.
"Great mom, great dad"
What are the moments in your life and career that are your proudest
accomplishments?
"When the kids at work show me lots of love with their hugs."
What brought you to Seguin and why did you choose to live here?
"I was raised here for most of my life because my mom's family is here."
What do you believe are the strengths of this community?
"Family."
What initiatives or changes would you like to see in Seguin that
would further strengthen the community?
"More trails, more shopping, a Chick-fil-A."
Do you have any family roots/history in the area?
"My mom's family."
What are your plans for the future, personally and/or professionally?
"College."