Posted on 2/8/2016 7:45:00 AM.
(Seguin) -- The SEDC is all about job creation. Whether it's big projects, like Caterpillar or Continental, or smaller companies that only bring a handful of jobs -- it exists to bring more jobs to the community. It's been doing it for a very long time, and just recently, it got to show again why it's such a good thing for this community.
More
SEDC, Seguin Economic Development Corporation
---
Posted on 2/5/2016 12:39:00 PM.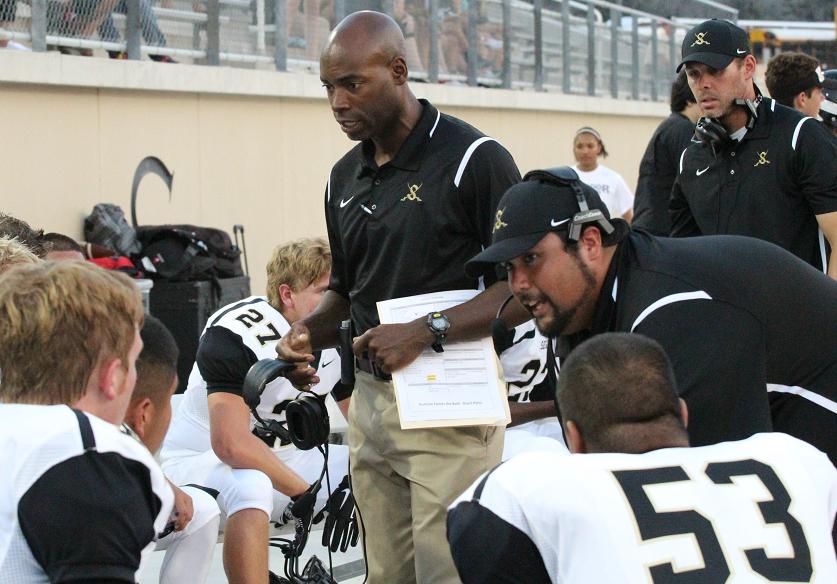 SHS Head Football Coach Anthony Boykin, standing center, has been reassigned to the district's middle school level.
(Seguin) -- Anthony Boykin is no longer the head football coach at Seguin High School. Boykin led the Matador program for the last two seasons.

The district released a statement that said that Boykin has been assigned to support the middle school athletic programs, and that they have posted the combined job of athletic director and head football coach together on the district's website.
The entire press release is listed below:
"As stated in a Seguin ISD news release dated Nov. 17, 2015, the district is proceeding with the hiring process for a permanent Athletic Director. This position is posted as a dual assignment Athletic Director/Head Football Coach. Our current Head Football Coach, Anthony Boykin, has been assigned to support middle school athletics. The Athletic Director/Head Football Coach position is posted on the Seguin ISD web site."
Seguin ISD, Seguin High School
---
Posted on 2/5/2016 12:21:00 PM.
(Seguin) -- The driver of the 18-wheeler killed when his truck fell over the Interstate 10 overpass onto FM 78 has been identified.
More
---
Posted on 2/5/2016 7:37:00 AM.
(Seguin) -- The counseling staff at Seguin High is making connections with students that will hopefully serve them well for a lifetime.
This week is National School Counseling Week, and earlier this week, we brought you details about the work that counselors perform at the elementary and middle school levels. High school counselors are so much more than what you might see on television or in the movies, and it's one of the reasons why we wanted to highlight their profession.
More
National School Counseling Week, Seguin High School
---
Next Entry